7th Grade Language Arts Teacher
Courses Taught:
7th Grade English/Language Arts
8th Grade English/Language Arts
9th Grade Literature and Composition
11th Grade American Literature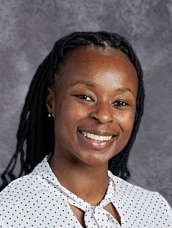 Mrs. Shantell Bell started her teaching career in Decatur, Georgia with the Dekalb County School System upon completion of her Master of Arts in teaching English Degree with a focus in secondary education from Mercer University. After teaching high school in Dekalb County, she transitioned to teach middle school with Gwinnett County School System then to Houston County School system, where she now teaches 7th grade Language Arts at Bonaire Middle School. She has a Bachelor's degree in English with a minor in secondary education from Georgia State University. Throughout her life, she has always wanted to work with the youth, serving them in all capacities of life. She has partnered with several programs aiming to bridge the gap between school and home life. Her main focus is to build relationships with students and teach the importance of education. She goes by the motto: "People don't care what you know until they know that you care". She spends her free time with her husband and three young girls.